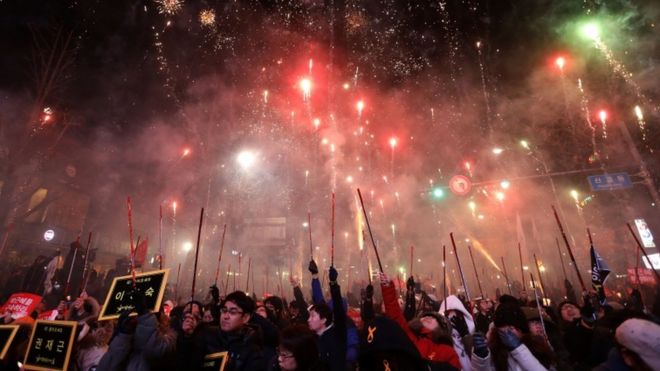 Tens of thousands of anti-government protesters have marched in the South Korean capital, Seoul, to celebrate the impeachment of President Park Geun-hye.
Gathering for the seventh weekend in a row, demonstrators held candles and demanded Ms Park's definitive removal.
She is suspended while the top court considers whether to uphold Friday's parliamentary vote to impeach her.
Ms Park is accused of allowing a close friend to profit from her connections with the presidency.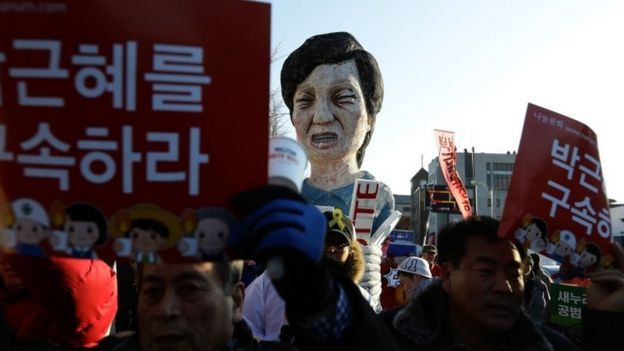 At the heart of the case is her relationship with long-time friend Choi Soon-sil, who faces charges of coercion and abuse of power.
It is alleged that after Ms Park became president in 2013, Ms Choi, 60, used their friendship to pressure powerful corporations into donating to foundations she controlled and then siphoned off funds for her personal use.
Prosecutors say Ms Park had a "considerable" role in the alleged corruption, which she has denied.
The Constitutional Court has 180 days to make a final ruling.
If at least six of the court's nine judges rule against Ms Park, she will become the first sitting South Korean president to be deposed in the country's democratic era and a new presidential election will be held within 60 days.