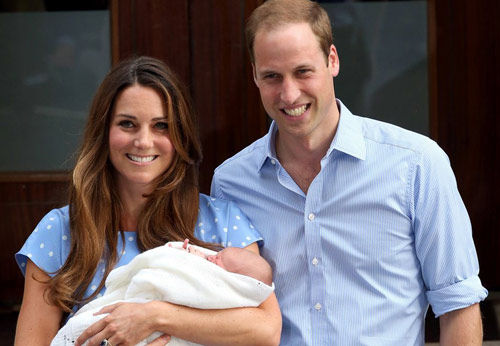 The picture are the Duke and Duchess of Cambridge and their son, Prince George.
Are the Duke and Duchess of Cambridge fighting over rumors of Kate Middleton pregnant, again?
Trouble may be brewing in paradise for the world's most talked about royal couple. After the birth of their second child, Princess Charlotte Elizabeth Diana on May 2, 2015, Prince William and Kate Middleton may be welcoming another bundle of joy as more and more sources are making claims of Kate Middleton pregnant again after just 8 months!
Life & Style magazine supported this claim of her pregnancy as they apparently expressed concern of how the couple will be raising their children, who would all be under three years of age at the same time.
The insider from the magazine claimed that this was according to plan, since the two were planning on having a big family anyway. "Kate and William have always wanted to have a large family," the insider said. "But they didn't think they would be expecting baby No. 3 quite so soon." Kate Middleton's pregnancy is said to be two months along. They apparently made this announcement to the family last Christmas.
However, Gossip Cop has officially shut down such pregnancy rumors for the 34-year-old mother of two. They denied any rumors of the couple making an announcement of a third pregnancy just months after the birth of Princess Charlotte.
Moreover, it seems that the Duke and Duchess of Cambridge may not even be up to the idea of having a third child as of yet. But to make it more specific, Movie News Guide sources have said that it wasn't the Prince who was hesitant for another child, but it was Kate who wanted to take a break from babies. Prince William would be thrilled to have a bigger family and to try for a third child, but Kate isn't willing to try for another baby for an indefinite period of time.
The Latin Post also confirmed that Kate Middleton pregnant was far off-course from the Duchess' future plans, and she may be pausing on babies for good. Her terrible morning sickness may be one cause, but as of now, talks of a third baby are only rumors and no palace officials have verified any sources claiming thus.
Last edited by Frances (2016-12-18 21:31:25)