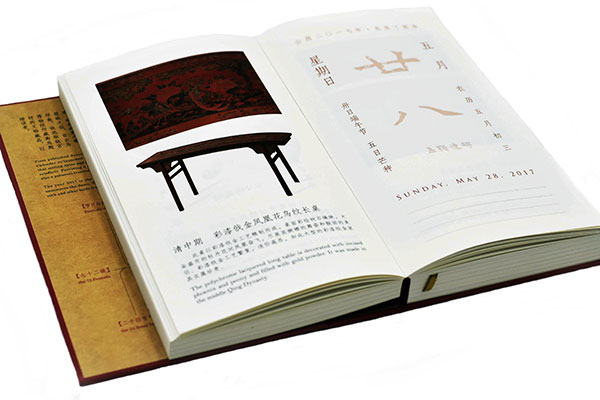 Calendars turned into luxuriously illustrated books, often with a twist of interactivity, are highlights of China's book scene at the end of the year.
The most popular is the Palace Museum Calendar, which has sold 1.3 million copies since it was first issued in 2010. The first printing of the 2017 version-300,000 copies-is sold out, and four more printings have been ordered.
For 2017, the Palace Museum Press is offering a bilingual version with English and Chinese. The Beijing museum also is known as the Forbidden City. It is full of cute animals, with a QR code for each day offering updated online content.
Besides the Plants and Animals Calendar, there is the One Way Street Calendar that resembles an old style Chinese almanac. If scanned using an augmented reality app, it displays videos of celebrities reading poems.
China Book Company, which created a Dream of the Red Chamber calendar for 2014, has since developed five more calendars with themes which include Chinese classical literature.
As the popularity of printed books declines, calendars are turning a new page for printed content with innovative designs and themes, reviving interest in categories like traditional culture, popular science and literature.