蒋康 150110613

新闻来源 卫报 https://www.theguardian.com/world/live/ … ve-updates
视频链接 BBC http://www.bbc.com/news/world-europe-38481521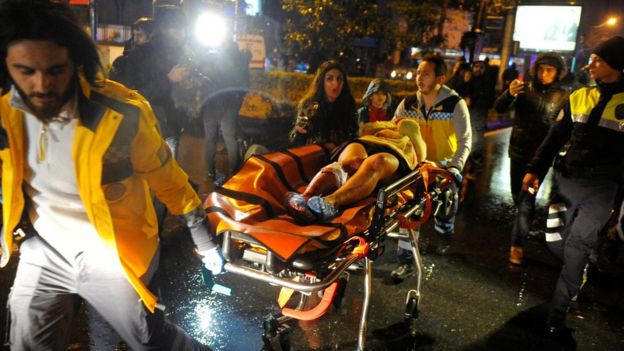 At least 39 people have been killed, and 69 injured, in an Istanbul nightclub after a gunman reportedly dressed as Father Christmas entered and began firing at random during a New Year's Eve celebration, at about 01:30 local time.
Interior minister Süleyman Soylu said that of 21 victims identified so far, 15 were foreign nationals.
The gunman was still on the run, contrary to earlier statements by authorities that the assailant had been killed. The attacker was said to be armed with a long-barrelled weapon, killed a policeman and a civilian outside the Reina club at about 1.45am before moving inside.
There have not yet been any claims of responsibility.
It is thought up to 600 people were inside the club, an exclusive hotspot popular with tourists and local residents that sits on the bank of the eastern side of the Bosphorus.
Witnesses reported a rush for the exits, bodies lying on the floor and people jumping into the river to escape the gunman. The club's owner said extra security measures had been brought in in the past 10 days after US intelligence reports suggested a possible attack.
Security has been increased across the city following the mass shooting in the district of Ortakoy.
Turkey's most senior cleric, has condemned the attack as "savagery" and a "massacre that no Muslim conscience can accept".
In a statement, President Recep Tayyip Erdogan said Turkey would "fight to the end" against terrorism.

"They are trying to create chaos, demoralise our people and create chaos with abominable attacks which target civilians," he said.
"We will retain our cool-headedness as a nation, standing more closely together, and we will never give ground to such dirty games."President Tayyip Erdoğan has vowed not to rest in the fight against all forms of terrorism.


Key words
savagery 野蛮残暴的行为 extremely cruel and violent
massacre 屠杀
demoralise v. 使意志消沉 使陷入混乱 put into disorder
abominable v. 憎恨厌恶 find repugnant
retain 保持 keep sth
cool-headed adj. 头脑冷静
give ground to 让步于